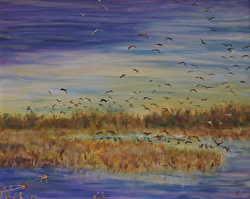 Blackwater Wildlife Refuge
I feel for everyone on the East Coast, especially my friends in Boston, who are still surrounded by mounds of snow higher than any I have ever seen in person. It is sunny here in Portland (Oregon, not Maine). Trees are covered in blossoms ranging from white to pink to crimson. Daffodils are everywhere. I finally have the energy and stamina to take an hour long walk, and next week I am planning an overnight visit to the Oregon Coast, where I hope to take brief hikes on the beach and eat fresh seafood by the docks.
Today I dropped off my oil painting "Blackwater Wildlife Refuge" for Village Gallery of Arts' March show. This painting was completed last year before I moved from Virginia to Oregon. I still don't have a studio fully set up yet, but I am making progress. The room in question has a beautiful view of open space parkland (including those trees in bloom). I also have a new easel. All I need is to rearrange a bit of heavy furniture and figure out how the windows open to ensure good airflow. There's just one more week until Daylight Savings Time. I hope Spring arrives soon for everyone else, too!
Comment on or Share this Article →
---
---
---
---