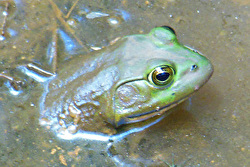 I've just moved from Colorado to Virginia. My old studio was in a basement. My new studio is on an upper floor with dappled sunlight filtered through leafy trees. In our backyard woods, the regular visitors are a young inquisitive deer who stops to graze, a fox who frequently passes through, a white-pawed squirrel who is always alert for the fox, blue-tailed skinks who skitter across the window sills, and a pair of Carolina wrens who enchant me with the posturing of turned-up tails, rusty bodies, long downward curved beaks, and white lines above their eyes. Nearby are marshes teeming with shorebirds and ospreys, punctuated by the calls of the bull frogs. And here was a bull frog who posed for my camera.
After a gap of many months, look for new works on my website in a few weeks time.
Comment on or Share this Article →
---
Each year I make a calendar and each year I make a resolution.
Last year, my New Year's Resolution was to paint every day. That certainly did not happen. I have switched recently from mostly watercolors to mostly oil paintings. Considering that we often travel up to six months a year, I can only bring along my painting gear on road trips, not airplanes. And often there is hardly time to sketch. In Peru for a month, we took long birding treks during daylight with only candle light and flashlights after dark. So my resolution never stood a chance. Another flaw was that "every day" clause. Once you miss one day, you're done!
I began creating the calendars after a wondrous three week safari to Kenya. With Photoshop, I added children and grandchildren to the wildlife photos--Mike with his arm around a lion's mane, Charlotte riding a giraffe, Kenna and Sedge on their tricycles next to a rhinocerous. In years that followed I made photo calendars of Yellowstone (bison, wolves, marmots), of Vietnam and Thailand (water monitors, elephant artists), of Borneo (orangutans and hornbills), and of Polynesia (stingrays and seaturtles). For 2013, I selected the best of my photos from remote Amazonian and cloudforest regions of Peru (hummingbirds, macaws, toucans and tapirs).
So it is time again for a new resolution. After last year's failure, I tried to compose a more acheivable goal for 2013. And it it took me all this week for an idea to hatch that seemed just right.
In 2013 I resolve to complete 12 paintings that are worthy of publication in my 2014 calendar. There are always a handful of paintings I might use, but never enough. I fall back on my photos instead, year after year. As the year goes by I can measure whether I am on track, as I need to complete an average of one per month. Yet if I fall behind, all is not lost. Wish me luck!
Comment on or Share this Article →
---
This past weekend I attended the opening day of Jakuchu's "Colorful Realm of Living Beings". All thirty of his silk scroll masterpieces are on display together at the National Gallery of Art for the first time ever outside of Japan. They are on loan for just one month during the Cherry Blossom Festival in honor of the 100th anniversary of the cherry trees given to our country by Japan in 1912. This is only the second time in over 100 years that all the scrolls have been displayed with their centerpiece, a triptych of the Buddha Sakyamuni from the Zen monastery Shokokuji in Kyoto. As property of the Imperial Household, this is likely the only chance any of us will have to see them in person in our lifetimes. So if you live near Washington DC or have any leeway to visit the city, please consider taking the time to see this show before it closes April 29th. By the way, the National Gallery of Art has free admission and tickets are not required.
Jakuchu's exquisite paintings celebrate the Buddhist belief that all living things have spirituality. His work is considered the greatest achievement in the history of Japanese nature painting. His finely detailed renderings of birds--from chickens to mandarin ducks to cockatoos--are more striking than Audubon's. His 30 scrolls also include shellfish, insects, frogs, tadpoles, and fish, artfully arranged amid appropriate foliage and flowers. He celebrates the varying patterns of plumage and delights in the details and variations found in nature.
The paintings have recently gone through a six-year restoration project to preserve them for future generations. This effort afforded new insights into Jakuchu's method of working. He uses both organic dyes that seep into the silk fiber and inorganic pigments that sit on top and provide surface texture. He painted large portions of his paintings on the back as well as the front of the silk, achieving subtle variations and illusions of depth. The scrolls have three layers of backing material behind the silk painting. Jakuchu's use of dark ink on the layer immediately behind the fine silk creates a dramatic luminous quality that enlivens the images.
The National Gallery's exhibition space has the triptych at one end, and the 30 nature scrolls lining each side of the gallery, just as Jakuchu envisioned their display. The impact is dazzling. And the artistry down to the finest detail is enthralling. The exhibition closes April 29th. Don't miss it.
Comment on or Share this Article →
---