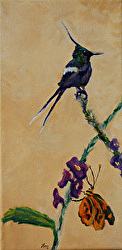 Wire-crested Thorntail
I have not had much time to paint in the last year and a half when we lived in Virginia. We moved to Oregon in October, and a week later I fell, breaking my femur. I returned from the hospital to my new home at 6:30 PM on Halloween, with my new hospital bed set up in the living room, just in time for the parade of costumed neighborhood children. They poked their heads in the doorway, wished me well, and departed with candy. Some eight weeks later, I'm healing well, but still have limited activity. What a good time to resume my blog posts, while I recuperate.
My new house has a lovely upstairs room with views of playing fields and walking paths between tall trees. This will be a studio, designed to be converted to a guest bedroom when visitors arrive. Right now it is a jumble. This was the one room not yet unpacked when I fell. So there are piles of canvases, boxes of files, three disassembled easels, and everything we hadn't yet found a place for.
After my most recent trips to the Amazonian rainforest, many ideas have swirled through my head, and I have begun work on one, only to drop it and start another. I must have half a dozen studies or larger paintings, started and abandoned. I would love to paint the view from the canopy of a tall rainforest tree. So much of the forest life takes place 300 feet above the forest floor where the trees flower and fruit in the sunlight. Another icon of the Amazon is the oxbow lake - formed when an Amazon tributary shifts course and leaves behind a deeper section that remains as a lake. Giant otters and tiny caiman ply the waters. The oddball hoatzin builds her nest overhanging the waters. Macaws and parrots are among the most colorful and long-lived rainforest inhabitants. The spectacle of hundreds or thousands gathered at a mineral lick is unforgettable. Yet another engaging event is watching a mixed flock of tanagers mingle in a fruiting tree as they pass through the forest. One favorite tree reminded me of an ocean, with billowing waves of green leaves, delicate sprigs of berries like ocean spray, and the tanagers as colorfully-clad tiny surfers balanced atop the crest of each wave. And at each cloud forest lodge, profusions of tropical flowers and vines attracted fleets of iridescent hummingbirds and clouds of brilliant butterflies. Where to begin?
I have been reading David Attenborough's book The Life of Plants. He writes about how hummingbirds are found only in the Americas and seem to have evolved in tandem with the American nectar-producing plants. Nowhere are hummingbirds more abundant than the tropics, where plants bloom year-round. What intrigued me most about Attenborough's book was that he told the story from the plant's point of view. As hummingbirds developed the rapid wingbeat that allows them to hover in place, the plants adapted to offer them elongated bell flowers that other birds and insects could not easily access. The plant's goal is pollination, so it helps if one bird species prefers them and seeks out their plant species rather than wasting their pollen by spreading it to unrelated plants. Each flower provides only a small amount of nectar, encouraging the hummingbird to flit from one plant to the next and then the next, again promoting pollination. Thus, over time, these affinities become reinforced.
One of the Brazilian Samba Schools that competes each Carnival in the Sambadrome in Rio De Janeiro is called Beija Flor, which is the Brazilian term for hummingbird. It literally translates as Kiss the Flowers. Everywhere in Peru and Ecuador we saw hummingbirds and butterflies "kissing" the flowers.
I've been exploring some of these ideas on some small canvases. And so far, the only one I like is this small portrait of a Wire-Crested Thorn-tail. It is based on a photo by my birding trip colleague Judy Adams, and a few of my own reference photos. I love the silhouette of this hummingbird and wanted to include a butterfly without detracting from the focus on the bird. I have far grander images in mind, but need to patiently work step by step toward achieving them. While I get frustrated at my progress, I have faith that I will eventually pull together a representation of the visions dancing through my mind.
Comment on or Share this Article →
---
---
---
---
---
---
---
---
---
---