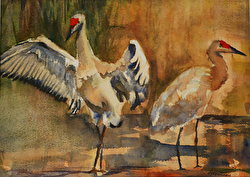 Sandhill Cranes
In a way, I am stuck right now. I moved to Oregon in mid-October, broke my leg a week later, and now almost four months later am beginning to limp around and be able to function. But the room that was to be my studio is still piled high with boxes from the move, and I don't yet have the stamina nor flexibility to be able to lift, sort, and organize my art materials or set up my easels. I can sit at my computer and write.
I've been thinking about another time I was stuck. I was taking an advanced watercolor class, where students brought whatever painting each was working on, and our teacher made the rounds giving us individual advice. My painting was an attempt to recapture a scene I had witnessed in Yellowstone National Park of Sandhill Cranes stretching their wings and resting in a wetlands. The painting took up a full watercolor sheet. Three cranes were spread along a sandbar surrounded by a vast marshy area. I liked how my cranes were turning out, but hated the background. It was too distracting and too dark. I had failed to capture the essence of the scene I remembered, and could not see any way to salvage the painting.
My watercolor teacher suggested that I take water and a stiff brush and scrub out the background, then repaint it after it dried. I got as far as scrubbing out the background. My cranes were still there, and I still liked them. But I was never able to decide what to do next with the background. I just saved it for years - I did like the cranes - as I worked on new pieces. Several years later I was participating in a show where I could include some bin work. I looked at my cranes again, and realized that, by cropping the image, with the focus on just two of the cranes, I no longer needed to do anything more. The scrubbed out background behind the cranes had a luminosity that perfectly complemented the birds. I matted it for the show and it sold!
Sometimes all it takes to become unstuck is time and a new perspective. I am trying to be patient and make good use of my time, knowing that each day my leg improves a bit. I keep reminding myself that by spring, I should be strong enough to take my easel outside for a plein air painting.
Comment on or Share this Article →
---
---
---
---
---
---
---
---
---
---