On Art and Nature
---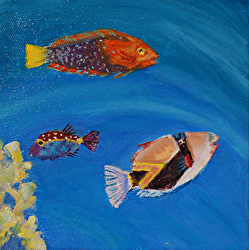 Reef Regulars
Today I am posting the third canvas down, which I call the reef regulars. All three of these fish have been frequent companions in reefs where I often snorkel.
At the top is a member of the abundant, colorful Wrasse family. This is an adult Yellow-tailed Wrasse. Wrasses morph through distinctive pattern and color phases from juvenile to adult, and from female to male. The changes can be so pronounced that even the experts who classify them have sometimes mistaken their young as separate species.
On the left, near the coral, is a Spotted Boxfish. This fish family have bodies encased in protective armor, and can only move their eyes, mouths and fins. They navigate the reef successfully using just their fins for propulsion.
On the right is a Reef Triggerfish, the official State Fish of Hawaii. Notice how its eyes are positioned high and far back on its body. This allows the fish to dine on sea urchins without risking a poke in the eye.
---
---
---
---
---
---
---
---
---